Medi-Wise Pharmacy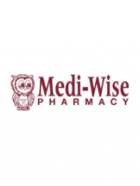 Visit:
Medi-Wise Pharmacy is a locally-owned and operated pharmacy. We are healthcare professionals who are proud to be part of the community. Since opening our doors in 1992 as an independent retail pharmacy we have grown into an area leader in prescription services, home medical equipment and supplies, health screenings, and health check clinics.
Medi-Wise Pharmacy was opened in 1993 by Robert Koons, RPh in New Philadelphia, Ohio. He successfully operated the business for 10 years before a terminal illness forced him to sell the business. He had 5 employees at the time. The pharmacy was purchased by pharmacists Jeff & Kevin Neidig in 2002.They had a combined 36 years of pharmacy experience covering retail, hospital, and long term care pharmacy. They operated the business in its original location for 2 years and then moved just a few miles away near the local hospital in Dover, Ohio. As the business continued to grow, the group home and assisted living specialty business started by Koons was expanded; a durable medical equipment business was started, and several employees were added. In 2005, a long term care pharmacy (Medi-Wise LTC Pharmacy) was started and it took care of the group home, assisted living, residential care, and long term care facilities. A new retail location was opened in 2007 located in Newcomerstown, Ohio, 20 miles away. The new location, totaling 16,000 square feet, was originally a grocery store vacated 2 years prior. After renovation, it included an 8,000 square foot retail sales area with full DME, a space for a walk in clinic, retail pharmacy, and plenty of room to expand. The original pharmacy location in Dover became too small for the operation there and in 2008, the retail pharmacy and long term care pharmacy were moved from Dover into the Newcomerstown location. The businesses continued to expand and add employees, and in 2012 it had increased to 40 employees. To allow for further growth and business expansion, the retail and long term care divisions were reorganized into 2 separate businesses in early 2013. Jeff Neidig became sole owner of the retail and DME business (Medi-Wise Pharmacy) while Kevin Neidig became sole owner of the long term care business (Medi-Wise LTC Pharmacy).
Medi-Wise pharmacy still believes in the purpose of a locally owned, independent pharmacy: to serve the patients and community with the highest level of customer service and care. We proudly support local veteran associations, schools systems, local festivals, local fundraisers, and the American Cancer Association. In keeping with the wishes of the original owner, we have kept the name Medi-Wise Pharmacy and still acknowledge his entrepreneurship. We also still employ 3 of his original staff. As we plan for further business expansion, we also look forward to addressing the challenges facing our nation's healthcare, including rising costs and the diminishing number of local independent pharmacies.
Phone Number: 740-498-6337
Address: 245 West State Street, Newcomerstown, OH 43832
Map: click here
Last Updated:
August 28, 2013