McLoud Clinic Pharmacy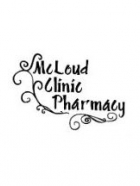 Visit:
Know your medicine, know your pharmacist... We would like to get to know you!
We want you to feel comfortable talking to us about your medication or healthcare issues. You'll find us working, living and volunteering in the McLoud community. Visit our pharmacy and let us know how we can help you today!
We are located in the same building as our local physician, but you are welcome to fill your prescriptions in our pharmacy regardless of which doctor you see. If we don't have what you're looking for on hand, please ask - usually we can have it the next day.
Services you can look to McLoud Clinic Pharmacy for are: drug interaction checks, medication and diabetic counseling, E-prescriptions, refill reminders, online refill requests, flavoring, flu shots, nursing home orders, vitamins, special order items, Jordan Essentials skin care line, flexible spending account card processing, delivery of prescriptions, and disposal of unused medication.
Phone Number: 405-964-3956
Address: 704 South 8th Street, Suite B, McLoud, OK 74851
Map: click here
Last Updated:
November 7, 2013