Marble City Pharmacy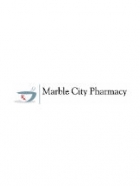 Visit:
Welcome to the web site for Marble City Pharmacy – truly "The Way A Drug Store Used To Be". We believe our fast, friendly service; our genuine concern for your health; our smiling staff; and the way we take care of your entire family's healthcare needs is second to none. We have been serving the Talladega and Coosa county areas since 2003 and continue to expand and increase our services for you. This recently redesigned web page will help you find out more about our store, order your medication refills, see a list of our pharmacy services, learn about our specialty compounding services, get to know our pharmacists, or get directions to our store.
We hope you find this site to be useful. Please feel free to contact us with any questions or comments. You may call us anytime, or if you have a question or comment for a specific pharmacist, they each have individual email addresses (which can be found on our pharmacists page).
Phone Number: 256-245-4446
Address: 264 West Ft. Williams Street, Sylacauga, AL 35150
Map: click here
Last Updated:
November 6, 2013