Contributing Experts
Manas Kaushik, MD, ScD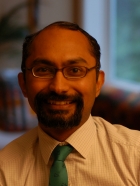 Visit:
Manas Kaushik, MD ScD is a physician leader works with patients and organizations in improving and sustaining their health through knowledge, expertise and rigorous analysis. He holds a Doctorate in Nutrition and Epidemiology from Harvard University and Master's degree from London School of Economics.
Dr. Kaushik is focused on strengthening healthcare providers and ensuring safe and excellent care for patients and communities. He has worked as management consultant with top 10 pharmaceutical and IT companies. More recently he has spearheaded patient engagement and patient satisfaction at Boston Medical Center while also designing a continuously improving healthcare delivery system.
Dr. Kaushik's research has been published in top journals in Journal of American Medical Association, Nature, Bulletin of World Health Organization, American Journal of Clinical Nutrition among others. His healthcare insights have appeared in many outlets, including NPR and The Economic Times.
Last Updated:
July 24, 2013