Contributing Experts
Manali Patel, MD, MPH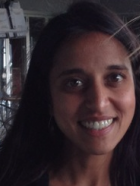 Visit:
Dr. Patel, MD, MPH is currently an Instructor of Oncology at Stanford University. She is a well-known researcher in quality cancer care delivery, disparities, and has developed multiple interventions both in the U.S. and internationally to improve cancer care. She is a thoracic oncologist but her research and areas of expertise cross-cut all areas of cancer care.
Dr. Patel completed her undergraduate degree, medical school and public health training at UNC-CH as a Morehead Scholar. She received numerous awards for her compassionate care, her dedication to service, and her efforts to improve patient care through advocacy. While at UNC, Dr. Patel led multiple interventions to improve health care delivery in rural United States and in Honduras and remote Aborigine Australia. After completing her dual MD/MPH degree, she then moved to Stanford University to complete her Internal Medicine residency and fellowship in Hematology and Oncology where she continued to be recognized for her contributions to patients, the community, and research.
Dr. Patel's clinical interests are in thoracic oncology where she uncovered disparities in lung cancer outcomes among racial/ethnic minorities. While her clinical interests are in thoracic oncology, her research focuses on access to quality of health care delivery, specifically cancer care and disparities in cancer outcomes and receipt of treatment. Her research efforts have received national attention for the impact she has made on improving knowledge of cancer care disparities and quality of cancer care. Specifically, her research has investigated the individual, clinical, socioeconomic status and neighborhood factors that influence disparities in cancer.
Her previous work has fueled her current passion to better understand the role that system level factors play in influencing patient outcomes, experiences, and costs of healthcare and to create interventions that can improve equitable care delivery. As part of the Stanford University faculty in Oncology and as a Research Faculty member at the Clinical Excellence Research Center at Stanford she has begun to transform care delivery to achieve the triple aim -- improve patient outcomes, experiences, and reduce per capita healthcare spending. Using methods from the Stanford Design School, Bio-Design School, Business, and Engineering methodologies, she has created new care delivery models for patients with advanced cancer and chronic and end stage kidney disease. Her current work has received national recognition and her interventions are currently being tested in over 17 pilot sites in the United States.
Last Updated:
May 30, 2013