Mallatt's Pharmacy and Costumes - Lodi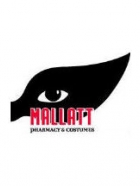 Visit:
The original Mallatt's Pharmacy and Costumes was established in 1926 on State Street in Madison, Wisconsin. In 1941, the pharmacy was moved to its current location on Monroe Street where it serves the west Madison neighborhood to this day.
In 2000, Mallatt's Homecare Pharmacy was formed to meet the needs of residents in assisted living and skilled nursing homes in central Wisconsin. We expanded our company to the east side of Madison by acquiring Shafer Pharmacy at 1255 Williamson Street in 2010. Our growth continued in 2012 when we purchased Harris Pharmacies located in Lodi and Waunakee, two communities just north of Madison. In addition to 5 pharmacies, Mallatt's Pharmacy and Costumes is a part owner of a home health agency named Interim HealthCare of Wisconsin.
COSTUMES?
As you can see, we are very serious about our pharmacy's important role in health care. However, there is a lighter side to Mallatt's Pharmacy and Costumes. Our theatrical make-up, costume, and costume accessories department exudes fun, laughter and creativity.
We have been asked numerous times; how did a pharmacy ever start selling costumes and theatrical make-up? Truth be told, no one really knows other than we started to sell Max Factor pancake makeup in the early 60's and the rest, they say, is history.
What we do know is that the Mallatt's Pharmacy and Costumes retail stores and our internationally known e-commerce website, mallatts.com are the destination for costume buffs, drama clubs and schools, and people who just want to get dressed up. Our inventory includes theatrical makeup from companies like Ben Nye, Mehron, Kryolan, Graftobian and more. Whether you are an expert or a novice, our specially trained staff can show you how to look your best (butterfly)…or your worst (zombie). We have a huge selection of costumes, hats, wigs, masks, props, accessories and more. We also have very high quality costumes that you can rent.
If you ever come to the Madison area be sure to visit one of our retail pharmacies for a fun shopping experience. Our store locator page will show you the exact locations.
Our mission statement says it all: Mallatt's Pharmacy and Costumes is caring for our community with healthcare and fun by providing unique products and services that will improve lives. As an employee owned business we know that each and every one of us is responsible for providing legendary service and exceptional care to our clients.
Phone Number: 608-592-3256
Address: 801 North Main Street, Lodi, WI 53555
Map: click here
Last Updated:
November 14, 2013