Madison Apothecary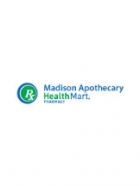 Visit:
Madison Apothecary is a locally owned pharmacy with a complete selection of brand name and generic medications, over the counter items, durable medical equipment, diabetic footwear, Jobst Stockings, a complete line of braces, oxygen, cpap and bipap. We are your one stop shop for all your healthcare needs!
Our pharmacists are always happy to answer your questions about your medications and concerns about your health. We go above and beyond what is expected in order to serve our customers. We offer home delivery on prescriptions and medical equipment five days a week. We also have a drive-thru window for convenient drop-off and pick-up of your prescriptions. We know you are busy and we are willing to work around your schedule to make your pharmacy business as easy and fast as possible.
Come in and check out our fine wine, beer and liquor department. We have the best selection of wines in the area. Make sure to watch in The Madison Courier for our next Wine Tasting!!!
Phone Number: 812-265-4621
Address: 835 West Main Street, Madison, IN 47250
Map: click here
Last Updated:
October 16, 2013