Contributing Experts
Luke's Family Pharmacy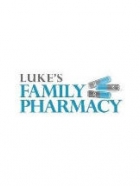 Visit:
Luke's Family Pharmacy has been providing Pharmacy services in the Wood River Valley for over 20 years. The Pharmacy has always been a staple in the community.
The "small town pharmacy" feel is evident upon stepping into the pharmacy as you look around. This feel also becomes quite apparent when it is seen that the pharmacist to patient interaction is more than just that. In many cases it is friend to friend.
Luke's Pharmacy has built the reputation for being the place to go to find, well, almost anything. If you are looking for that odd brace or specific cream, the chances are Luke's has it and if not it will be ordered in for you.
Luke's has long been the ONLY Pharmacy in the valley for a variety of services including: Oxygen therapy, drive-up services, IV medication preparation, and a large variety of durable medical equipment including bathroom aids, walkers, wheelchairs, diabetic shoes and compression stockings. With ownership changing in February of 2009 the scope of practice has expanded even further to include specialized compounding. All of these services combined with an experienced staff that meets on a weekly basis to discuss how to better serve our patients results in a pharmacy experience that is unmatched!
The pharmacy has 2 well-trained pharmacists on staff. Luke has been with the team since May of 2009, while Lisa has been on staff for over 15 years now, the last 12 of which have been with our lead technician, Erika. On staff we also have Steve, who does home delivery and specializes in oxygen services. Candy is our CNA that checks on each of our oxygen patients on a monthly basis, and Cindy is our billing specialist. Katy and Don work as our part-time technicians.
Phone Number: 208-788-4970
Address: 21 East Maple Street, Suite B, Hailey, ID 83333
Map: click here
Last Updated:
June 20, 2013