Lowry's Prescription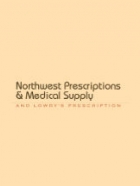 Visit:
Northwest Prescriptions & Medical Supply and Lowry's Prescriptions accept all Medicare Part D prescriptions plans. We have a full service medical supply , carrying Jobst compression stockings, an assortment of knee scooters, Duoderm and Tegederm wound dressings and assorted Donjoy and Royce knee, wrist and back braces. We also stock an extensive line of bath safety and mobility products. Our pharmacy includes a breast pump rental station carrying Medela and Ameda breast pumps and accessories.
Located on the campus of Northwest Hospital, we have developed unique relationships with other healthcare professionals allowing us access to endless resource NW prescription Seattle WAs to meet our customers' needs. Being independently owned and operated allows us access to several wholesalers with delivery time being 2 to 3 days in most cases.
Some of the unique services we offer: Immunizations, Anticoagulation Clinic, Compliance packaging for the elderly, Enrollment in Medicare part D plans, Breast-feeding pumps and supplies, Wound Care, and Knee Scooters.
As preferred providers of Premera and Regence, you are guaranteed to get the maximum out of your healthcare benefits. With no upfront costs for most plans, we are willing to bill your insurance and invoice you any balance once the claim has been processed.
Our drive up window makes it easy and convenient to pick up prescriptions without having to look for parking. The first 30 minutes of parking is free and with wait times averaging 10-15 minutes, you will be on your way in no time. While waiting, browse our unique gift area for that special something you don't have time to shop for. Don't drive? Take advantage of our free local delivery or ask us to mail your prescription free of charge. Please remember to allow adequate doctor call-back time for additional refills.
We are looking forward to meeting you and having you experience our commitment to providing excellent customer service - on an individual level - to each individual who enters our store.
Phone Number: 206-368-6060
Address: 10330 Meridian Avenue North, Suite 180, Seattle, WA 98133
Map: click here
Last Updated:
November 14, 2013