Lou Czaja, Pharm.D., CGP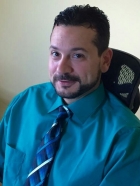 Visit:
Louis J. Czaja, PharmD, CGP joined RxWiki as a Digital Pharmacist in 2015. With over 15 years of experience as a pharmacy manager in the retail setting, he decided in 2014 to shift gears and become more involved in the world of clinical application. After attaining his certification in Geriatric Pharmacy, he began applying his knowledge to MTM in the retail setting and as a Clinical Consultant Pharmacist.
Louis attended Duquesne University Mylan School of Pharmacy in Pittsburgh, PA. and graduated with a Doctor of Pharmacy degree in 2000.
Louis served as a preceptor to pharmacy students attending University of Southern Nevada as well as students of Wilkes University Nesbitt School of Pharmacy.
Advanced Certifications and memberships include:
Certified Geriatric Pharmacist
Certified Immunizer
Certified Travel Immunization Consultant
Member of American Society of Consultant Pharmacists
Advanced Life Support Certification
Last Updated:
July 22, 2015