Lindsay Liepman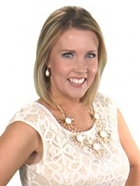 Visit:
Lindsay Liepman is an Emmy Award-Winning Anchor and Reporter whose career has spanned more than a decade and taken her across the country and back. Lindsay is a Health News Anchor/Reporter for dailyRx News Network, the world's leading 24-hour digital health news network.
She began her career at KBTX-TV in Bryan/College Station, Texas. It's the home of her alma mater Texas A&M University where she graduated with a degree in Journalism in 2003. After spending several years at KBTX, she moved on as the Main Anchor of WSHM-TV in Springfield, Massachusetts. The sand and sun of Southwest Florida came calling and Lindsay spent six years as an Anchor/Reporter at WINK-TV in Ft. Myers, Florida. It was there that Lindsay earned an Emmy Award for crime reporting, an Edward R. Murrow Award and was recognized for her work by the Society of Professional Journalists. New England was Lindsay's next stop as an Anchor/Reporter at WMTW-TV in Portland, Maine.
Some of Lindsay's favorite stories include helping to save a more than 100 year old theater from closing in Ogunquit, Maine…anchoring several hours of special coverage for the final launch of the Space Shuttle Atlantis from Cape Canaveral, Florida and reporting from President George H.W. Bush's skydive at his 80th Birthday in College Station, Texas and again for his 90th Birthday in Kennebunkport, Maine.
Her work has been featured on CNN, The Weather Channel, ABC News and The Huffington Post.
Lindsay lends a hand to help raise money for cancer research. Her mom and grandmother are both cancer survivors and she's seen first hand how research dollars can save a life.
If you have a health news story idea, send Lindsay an email or reach out on twitter @lindsayliepman.
Last Updated:
March 23, 2015