Leesburg Pharmacy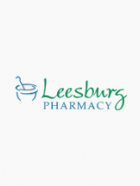 Visit:
Our employee-owned pharmacy has been serving the Loudoun community for over 35 years. Our dedicated staff is proud to offer personalized service whether you need a prescription, a wheelchair, or a unique gift. We've been voted Leesburg's "Best Pharmacy" year after year--come and see why!
In 1976, Bruce Roberts founded Leesburg Pharmacy in the Virginia Village Shopping Center. It started off as a small store with only two employees, but from the beginning Leesburg Pharmacy focused on the needs of the community. Paying attention to the customer allowed the pharmacy to grow and expand to the full service pharmacy it is today. Our 55 employees now serve customers all over Northern Virginia and beyond from our 7,000 sq. ft. store.
Leesburg Pharmacy offers:
Prescription Medications
Over-the-Counter Items
Medical Equipment and Home Health Products
Compression Socks
The Compounding Center
Remedies: Cards, Gifts, and Gourmet Foods
Wellness Services
In 2004, Bruce sold the pharmacy to the employees and we are the only pharmacy in Virginia that is 100% employee owned. We are proud to continue the Leesburg Pharmacy legacy.We understand that our success is due to our focus on our customer and maintaining our core values in everything we do. Our knowledgeable staff works hard to make a difference in the lives of our customers. We act with responsibility to our community, our environment, our co-workers and our patients. We also serve as mentors and achieve our goals through teamwork. Our pride in our workplace is apparent when you enter our front door. Every staff member works with a positive attitude and always acts with integrity.
Phone Number: 703-777-5333
Address: 36-C Catoctin Circle, Southeast, Leesburg, VA 20175
Map: click here
Last Updated:
May 20, 2013