LeClaire Family Phramacy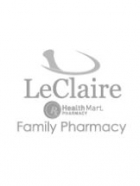 Visit:
To Serve You Better. You should expect even better, more personal service and a comfortable shopping environment with an improved selection of items you'd expect to find at a pharmacy. You can also ORDER Rx REFILLS right here - right now. Come visit often as our online services will grow and you can see our progress.
To improve the efficiency of our business. While 2 locations may be somewhat more convenient, the logistics of maintaining 2 sets of inventory, patient records, and business hours is a difficult task and precluded us from offering better service to you, our customers. After all, you are the reason we are here.
Access for you is safer. Our drive-thru and parking lot can be accessed easily. It may take 3 minutes longer for some of our Godfrey customers to get to our store, but our Massey location is in the midst of where most of you regularly commute. We trust that your experience with our pharmacy is worth those few extra minutes.
Community. Our North Alton location has historical significance and represents who we are - a family pharmacy. The LeClaires will follow in the tradition of the Yungck and Massey families as the 3rd family-owned pharmacy at State and Elm Streets in Alton. We intend to carry on that tradition and expand it to include an online component where you can contact us 24/7.
Phone Number: 618-466-5633
Address: 2603 State Street, Alton, IL 62002
Map: click here
Last Updated:
November 7, 2013