Lang's Pharmacy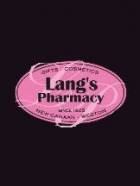 Visit:
Langs Pharmacy of Weston is family owned and operated and a full service independent pharmacy. Our pharmacists are always available to answer your medication and healthcare questions. We accept most prescription insurance plans including Medicare Part D.
FACT: your co-pay is exactly the same as at any chain store pharmacy. There is no need to go anywhere else! We pride ourselves in our attentiveness and courteous service. They are our forte!
Transferring a prescription? Just contact us and we will do the rest! Can't make it into town? No worries.....WE DELIVER! Our same day delivery service is available at both of our locations.
Phone Number: 203-226-7800
Address: 190 Weston Road, Weston, CT 06883
Map: click here
Last Updated:
October 9, 2013