Lakeview Pharmacy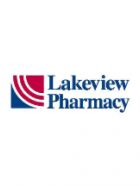 Visit:
Lakeview is your pharmacy. With a simple call, computer click or drive downtown, you are connected to our experts. They have in-depth knowledge of the medications your doctor has ordered, realize the importance of good relationships with the local medical community, work as advocates to give you the best value for your needs and understand that your time is precious.
Lakeview Pharmacy offers the personal service you deserve with advanced ideas that can preserve your health, assure your confidence and conserve your time and money. Whether you are an individual customer, the caretaker for a patient or an assisted living manager, we have the staff and expertise to meet your needs.
Explore all that Lakeview Pharmacy has to offer and make the connection … We're here for you!
Phone Number: 262-632-0520
Address: 516 Monument Square, Racine, WI 53403
Map: click here
Last Updated:
September 3, 2013