Lakeland Pharmacy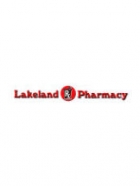 Visit:
As a medical equipment provider that's been serving southwest Missouri for 14 years, Lakeland Pharmacy as come to be known for its prompt customer service that is delivered in a personable manner. Our customer experience is further heightened by the fact that we meet all of the Medicare Supplier Standards and are recognized by Medicare as a provider of home medical equipment to seniors. This goes to show that our qualified staff of 45 has our customers best interests at heart at all times.
Our staff at Lakeland is as educated in their specific fields as you will find. On our staff we have:
A certified respiratory therapist
Diabetic shoe fitters
Mastectomy garment fitters
A mobility specialist
A home modification specialist
Orthopedic/support fitters
We also employ several full-time billing specialists to help explain details of your insurance claims that are often times difficult to understand.
The Lakeland staff is ready to help you find the products or services you need. Contact us today to learn how we can help!
Phone Number: 417-272-8064
Address: 18565 Business 13, Branson West, MO 65737
Map: click here
Last Updated:
November 13, 2013