Kiowa County Pharmacy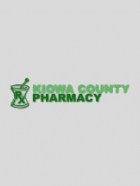 Visit:
The Kiowa County Pharmacy is located in the East wing of Kiowa County Memorial Hospital. We offer fast, friendly service!
We offer free delivery and mailing of your prescriptions. Delivery is free to surrounding areas as well, including all of Kiowa County, and Bucklin!
We have limited space, but if you don't see the over-the-counter item you are looking for, we can order it for you and have it the next business day. We will also keep your item in stock for you at your request.
During open enrollment for Medicare Part D, we offer free plan counseling.
Ask us about our Sync My Meds program, to get all of your medications lined up to fill on the same day. We love to see you every day, but we know you probably have better things to do than come see us that often. We can help you make 1 trip to see us per month!
We are also a Unused and Expired medication take-back site.
Phone Number: 620-723-3112
Address: 721 West Kansas Avenue, Greensburg, KS 67054
Map: click here
Last Updated:
July 31, 2013