Jensen's Community Pharmacy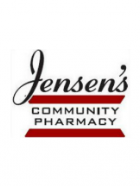 Visit:
Jensen's Community Pharmacy is a locally owned and operated pharmacy in Saline. Our goal is to improve the health outcomes of every patient that comes through our doors and the community at large. We strive to achieve this goal through our services, programs and dedication. Our experienced team of professionals are always available to answer questions including prescription medication counseling and over the counter medication consultations. We are a full service pharmacy that dispenses both traditional medications and compounded prescriptions.
We know that the last thing you want to do after waiting to see the doctor is to wait a long time to have your prescription filled, so at Jensen's we get your prescription to you quickly without sacrificing personal attention and accuracy. We screen for drug interactions with every prescription and use a bar code system for a triple check to ensure the proper medication is your prescription bottle. You can rest assured that your pharmacy needs are in good hands.
We are now offering free home delivery of medications to the Saline area Monday through Friday. If you are not in the Saline area and need delivery please call and we may be able to accommodate you!!
Phone Number: 734-429-9053
Address: 968 East Michigan Avenue, Saline, MI 48176
Map: click here
Last Updated:
August 26, 2013