Irwin's Pharmacy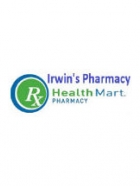 Visit:
Welcome to Irwin's Pharmacy, the family owned neighborhood pharmacy that has been serving the Chesapeake, Virginia community since 1934. We provide extensive prescription and medication services, including home delivery!
Our phone lines are open 24 hours a day to ensure you get your prescription filled as soon as possible. Our drug clerks are always available to take your call during business hours, and our answering service is a secure place to leave a message that our technicians check all throughout our hours of operation. Refills are available automatically on the refill date, so there's never a need to worry about calling it in. You only need to tell the technician when you first fill your prescription that you would like to set up automatic refills.
New customers are always welcome. If you would like to transfer your current prescription to us, just give us a call with the refill information. If you require any information on your current prescriptions you have with us, our pharmacist is always available during business hours to give you the details you may need on your prescriptions.
We accept all major insurance companies and policies. We fill Diabetes prescriptions and supplies and will bill Medicare/Medicaid providers directly. We'll also bill second party insurance policies to ensure you are fully covered. We carry a large selection of Diabetic shoes that are fitted to your personal structure. Speak with your doctor today about the benefits of special shoes. All your doctor has to do is fill out an informational packet and we'll schedule an appointment to have you fitted.
We'll compound a majority of Rx's for you, your family, and even your PETS! Adding flavors to liquid medication is a great way to make the experience enjoyable; examples of our flavors include bubblegum for your child or tuna for your cat!
Are you too sick to make it to the pharmacy? We provide service to your front door for FREE! We realize that when you're sick, it's all you can do to get to the doctor, so don't worry about waiting in line at the pharmacy too. Have your Dr. call in your prescription and set it up for delivery and we'll come to your home as soon as possible.
We have a variety of products and Remedies that are hard to find and we carry a selection of products for your pets: Food, treats, vitamins etc.
Phone Number: 757-420-8414
Address: 4300 East Indian River Road, Chesapeake, VA 23325
Map: click here
Last Updated:
November 6, 2013