Hubbard City Drug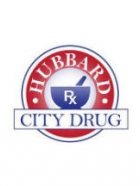 Visit:
Hubbard City Drug is a family-owned, independent pharmacy and drug store. In business since 1980, it is located on HWY 171, two blocks south of HWY 31, in Hill County, Texas.
We offer full pharmacy services with free delivery in a fifteen mile radius and nursing home services. We have several gift lines with a wide variety of wedding, baby, seasonal, and birthday gifts and cards. Picture frames, stationery items, toys, candles and vitamins. We fax and make copies as a service when requested.
Hubbard City Drug was the recipient of Hubbard Chamber of Commerce Business of the Year Award in 2004.
We are members of Texas Pharmacy Association, National Community Pharmacists Association, American Pharmacies, Hubbard Chamber of Commerce, and Hubbard Lions Club.
Phone Number: 254-576-2241
Address: 200 North Magnolia Street, Hubbard, TX 76648
Map: click here
Last Updated:
October 10, 2013