Contributing Experts
Howard S. Derman, MD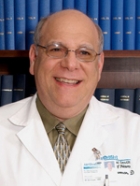 Visit:
Dr. Howard S. Derman is an Associate Professor of Neurology at the Weill Cornell Medical College and founding member of the Neurological Institute (NI) of The Houston Methodist Hospital in Houston, Texas. In Spring 2010, Derman and several colleagues at the Neurological Institute established the Houston Methodist Concussion Center. Derman is a concussion specialist for the Houston Dynamo and Houston Texans.
Derman received his B.S. degree from Syracuse University and his M.D. degree from Rush Medical College in Chicago, Illinois. After a one year medical internship at the University of Connecticut, he spent two years in Neurology training at Duke University Medical Center in Durham North, Carolina. He then served as the Chief Resident in Neurology at the Baylor College of Medicine.
Since 1979, Derman has been in active clinical practice in Neurology at The Houston Methodist Hospital. He has a special interest in the treatment of migraine headaches, concussions and other pain syndromes affecting the nervous system. Derman's research includes new approaches to treatment of headaches. He is also involved in several research projects which include both the causes of concussions and programs to get athletes to return to play.
Last Updated:
August 14, 2013