Horton's Drug Store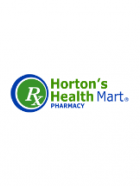 Visit:
Family owned Pharmacy in Downtown Athens since 1961 supporting Bulldog Nation!
Established in 1947, Horton's Drug Store occupies the corner of Lumpkin and Clayton streets in downtown Athens, across from the historic Georgia Theater. W. P. Horton, Sr. purchased the business from the Reid brothers, Ike and Henry. Mr. Horton, known by all as "Doc Horton", owned Horton's until his death in 1974. Management and then ownership was passed to his sons Bill and Jim Horton (who operated ADD Drugs at Five Points in Athens until retirement in 2012). Jonathan and Pam Marquess purchased Horton's in 2012 as their first location outside the Atlanta Metro-area. For over 100 years the building has housed Athens' iconic corner drugstore.
Generations of UGA students, native Athenians, and Classic City transplants have found in Horton's personal service and skilled staff a trusted health care resource. Staffers include Jim Stowe, RPh, who joined Horton's in 1973, and Molly Coletti, PharmD, first as a student intern and now as a pharmacist upon graduation and licensing. Along with registered technician Gina Stephens, we offer patients our skill and experience every day.
Phone Number: 706-543-3454
Address:101 East Clayton Street, Athens, GA 30601
Map: click here
Last Updated:
August 26, 2013