Horton & Converse Pharmacy - West Los Angeles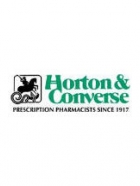 Visit:
Founded in 1917, Horton & Converse Pharmacies is a professional pharmacy chain dedicated to providing exceptional service and quality products. Family owned and operated, we understand the importance of treating patients and employees as part of the Horton & Converse family.
Our knowledgeable and enthusiastic pharmacists and staff take pride in offering an elevated level of care through strong provider relationships, community involvement, and patient education. Long lasting relationships with local practitioners along with great service have been vital in building our customers' trust and loyalty in the community.
In addition to our full-service pharmacies, we also specialize in home health medical supplies and equipment. Our certified and trained specialists are committed to going above and beyond in assisting patients with an extensive selection of products to fit their specific needs.
Located in prominent medical buildings throughout the Los Angeles area, we have several locations adjacent to major hospitals such as St. John's in Santa Monica and Cedars Sinai Medical Center in Los Angeles. Each unique facility strives to continue the long standing tradition of excellence set forth by our founders.
Phone Number: 310-478-0801
Address: 11600 Wilshire Boulevard, Los Angeles, CA 90025
Map: click here
Last Updated:
July 24, 2013