Horseshoe Health & Medicine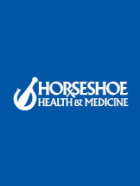 Visit:
Horseshoe Health & Medicine is an independent, family-owned professional pharmacy that serves Izard, Sharp, and Fulton counties. Horseshoe Health & Medicine can compound customized medications to meet specific needs for our patients and their pets.
Women's Health is one of the many specialties, the experienced staff works with numerous doctors, nurse practitioners and physician assistants to provide individualized Mastectomy / Lumpectomy Prostheses - Custom fit bras and swimsuits.
Nutritional Supplements are also key to optimal heath. Check out the extensive line of pharmaceutical grade nutritional and herbal supplements.
Horseshoe Health & Medicine was built and started by Frank and Ellie Fowler in August 2006. Frank has been a pharmacist since 1999 and grew up in Izard County. Ellie has been a registered nurse since 1998 and is originally from Northwest Arkansas. Her experience started in women's health with a past history in labor and delivery. Presently she is a licensed Pedorthist and a Board Certified Mastectomy Fitter. Together they have created a successful business that provides a needed service to the tri-county area. Horseshoe Health & Medicine serves the community by free delivery to Izard, Sharp, and Fulton counties, supporting the local hospices, home health, and nursing homes. The pharmacy provides immunizations including influenza, pneumococcal, shingle, hepatitis, and other vaccinations. Horseshoe Health & Medicine helps support the community's medical need by supplying oxygen and most medical equipment to the surrounding areas. The goal is to help the community by providing the very best service and choices related to the customers' needs.
Phone Number: 870-670-4580
Address: 600 Market Street, Horseshoe Bend, AR 72512
Map: click here
Last Updated:
November 14, 2013