Hillsborough River Pharmacy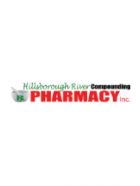 Visit:
Hillsborough River Pharmacy is the name for personalized care in today's pharmacy service business. We are a customer driven full service pharmacy. We strive to provide better value by offering you more, going all the way, delivering, following up and satisfying your every expectation. Our inventory is carefully selected to your preferences and sourced from approved vendors of high pedigree. Our staff is engaging, respectful, skilled, knowledgeable and multilingual, so our communication will be easy! We are outstanding professionals and experienced business managers, so you can be rest assured that you will be satisfied with our products and services. We accept all major and minor insurance plans, so you don't have to worry about anything!
We offer you a $2.00 price on your transferred monthly maintenance prescriptions from other pharmacies, so you can start saving money! We have implemented a full interactive web based technology for prescription filling, so you don't waste time, giving you peace of mind!
We are a new business built upon the foundation of providing great customer service. If you wish, we can deliver to your home, office or doctor's office, so you will have less hassles! Who would you rather trust with your prescriptions? Our caring and friendly professionals or the unenthusiastic merchants at the competition?
Phone Number: 813-873-3651
Address: 1706 West Dr. Martin Luther King Junior Boulevard, Tampa, FL 33607
Map: click here
Last Updated:
September 4, 2013