Hill Country Apothecary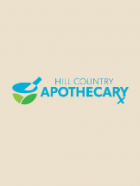 Visit:
Community pharmacists are one of the most accessible members of the health care field. The relationship between the pharmacist and the patient is one that cannot be found in many other professions. It is a relationship that involves compassion, trust, ethical responsibility and in many cases friendship. The compounding pharmacist has evolved from the traditional community pharmacist that you still experience at chain pharmacies. The role of compounding pharmacist is no longer just a supplier of medicine but have the mindset of a more patient centered approach.
Compounding pharmacy is a revived practice of pharmacy and the benefits the field provides are limitless. Compounding is an innovative part of pharmacy. There are patients with specific needs who face challenges adhering to traditional methods of taking medication due to their disease state or physical condition. A compounding pharmacist is able to provide solutions for these challenges to enable a patient to be compliant to the treatment regimen from their physician. Working closely with the patient and the prescriber, compounding gives the pharmacist the means to customize medication to meet the individual needs of each patient. These types of services are not provided by large chain retail pharmacies.
The basis of this profession has always been the patient-physician-pharmacist relationship, also known as the "triad" relationship.
Prescribers might recommend compounded medications for reasons including, but not limited to, the following situations:
• Currently, drug shortages are more prevalent than in the past due to pharmaceutical companies having interruptions in their manufacturing processes or simply because they quit making their product. A compounding pharmacist can order the ingredients for that unavailable/discontinued medication in bulk and compound the product into a particular dosage form specifically for the patient.
• Patients may have an allergy to a particular preservative, dye or ingredient in medications or nutritional supplements that are available commercially. A compounding pharmacist can compound that particular product without the offensive ingredient.
• Compounding pharmacists create custom dosage forms or uniquely flavored products for special populations such as pediatric or veterinary patients. Compounded items are in greater demand for these groups because the mass-produced products are not manufactured.
• Combining several medications into one dosage form helps increase medication compliance. The same situation applies to a patient taking several nutritional supplements.
• Patients suffering from chronic pain due to fibromyalgia, cancer, multiple surgeries, arthritis, and/or injuries often have problems managing their pain. Many of these patients are taking so many different medications that cause unwanted side effects that essentially prevents them from taking their prescribed regimen. A compounding pharmacist can prepare the combination of medications in a transdermal cream that can be applied directly to the site of the pain to avoid the unwanted side effects of medications when they are taken by mouth.
• Post-menopausal women often have to take bio-identical hormone replacement therapy which can be compounded into a topical cream that contains the exact amount of hormones they need based on their specific hormone levels.
Your big box pharmacy does not supply this customized and patient centered attitude. Unfortunately, these stores are only in the pharmacy for the profit, which cripples the pharmacist from truly dedicating themselves to the patient and the community.
Hill Country Apothecary will provide a comforting, healing environment. A place built around the forgotten notion that you don't just need your prescriptions filled, but you need attention, advice and individualized care. The pharmacist will come from behind the counter and dedicate quality time with the patient. In addition to compounded prescriptions will offer extensive services that will include:
• Complete Wellness Program: Provide education on nutrition and methods to live a healthy lifestyle. We plan to partner with a nutritionist that will provide consultative services from our pharmacy
• Disease State Management services: Educate patients on the complications associated with their chronic medical conditions and teach them skills to take control of their health
• Community Health Outreach: Offer monthly education seminars on various health related topics such as: autism, hormone replacement, men and women's health, nutrition in children, pet health, diabetes, cholesterol, hypertension.
This comprehensive approach will advance health outcomes, expedite patient recovery, and promote the overall health and welfare of our patients in the community.
Compounding pharmacy is an essential part of the patient's care plan for medicine therapy and is rapidly evolving. This change has strengthened the community pharmacist's role as a visible leader entrusted with the health of many families in the communities they serve.
The owners/pharmacists at Hill Country Apothecary are not your traditional pharmacists. We both come from independent pharmacy owning families who own very successful pharmacies and are very involved within their respective communities. Our families have been teachers and leaders in the compounding industry for over 20 years. This is a priceless asset to our business and provides a strong foundation for which to build a reliable pharmacy that serves the Lakeway area community.
Phone Number: 409-344-2214
Address: 1310 Ranch Road 620, Lakeway, TX 78734
Map: click here
Last Updated:
August 26, 2013