Henry Roberts Express Pharmacy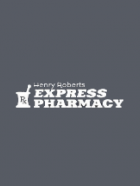 Visit:
At Express Pharmacy we have a wide variety of medical equipment for you to choose from. Including walkers, crutches, bathtub railing, braces and wheelchairs. We have a covered drive-thru prescription pick-up window, covered for all weather. We also specialize in compounding, home infusion, women's health, immunizations, diabetic supplies, diabetic shoes/orthotics, and gifts.
We offer many products that we are able to compound at the pharmacy. Our compounding lab is filled with all the necessary equipment to fill ANY special order prescription. From Baby Butt Paste to Decubitus Lotion.
Phone Number: 580-226-2684
Address: 1316 NW 12th Avenue, Ardmore, OK 73401
Map: click here
Last Updated:
August 6, 2013