HealthStat Rx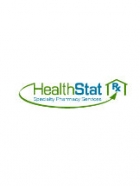 Visit:
HealthStat Rx is a patient-centric specialty pharmacy (340B Contract Pharmacy) providing chronic disease expertise and support to improve the therapy experience and quality of life for patients in the convenience of their home.
We are committed to improving patient health outcomes by offering a pharmacist-managed medication care program, comprehensive therapeutic monitoring and dependable home delivery.
HealthStat Rx was established in the spring of 2000 in Atlanta, Georgia. It is currently owned and operated by its three founding members who between them have over 65 years of homecare experience. These three healthcare professionals developed a unique medication management program designed specifically to benefit the patient in the home suffering from a chronic condition.
Today, HealthStat Rx is a full service specialty pharmacy, with a comprehensive line of products and services to meet the needs of homecare patients with any chronic disease state. Our specially trained pharmacists and experienced patient care managers form the foundation of our proven medication management program. Regular intensive interactions with these caring professionals help guide patients through the daily challenges of living with a chronic condition. Whether it's reinforcing education, refill reminders or custom bubble packaging, HealthStat Rx caregivers employ a variety of unique tools to increase patient adherence, improve patient outcomes and decrease overall healthcare costs.
Results from HealthStat Rx's comprehensive pharmacy care program study show that the pharmacist is a vital member of the patient's healthcare team. Their thorough knowledge of medications and their ability to make an assessment of the patient's entire regimen is essential in the evaluation and follow up process. HealthStat Rx's proprietary database measures a patient's level of engagement, reports their adherence and identifies any issues which may be affecting their ability to follow their treatment plan. Each day hundreds of Providers and Payors depend on the detailed documentation provided by HealthStat Rx to complete the optimum model of chronic care.
Phone Number: 866-437-8040
Address: 200 Technology Court SE, Suite B, Smyrna, GA 30082
Map: click here
Last Updated:
November 14, 2013