Granby Pharmacy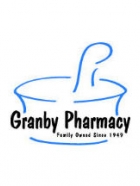 Visit:
Locally owned and family operated pharmacy for 40 years. Currently the Keating family is running Granby Pharmacy.
Granby Pharmacy has been in business since 1949. Currently Mike and Mary Keating own and manage the store along with their three daughters Colleen Keating RPh, Jean Keating, Pharm D, and Beth Galloway, Store Manager.
The Keating's and their staff are here to provide pharmaceutical healthcare to the town of Granby and surrounding areas. Quality and friendly customer service is what you can expect from Granby Pharmacy, as well as a free cup of coffee while you wait. The pharmacists and staff make an effort to get to know the customers to help you through cold/flu/allergy season, a discharge from the hospital, chronic conditions or to help an aging loved one.
If you need help finding a particular product, we're here for you. Our shop carries everything you need for your daily life, including high quality medical equipment, cards, gifts, personal care products, and much more.
Our friendly and helpful staff is always at your service. If you need more information regarding a certain medication, our pharmacists are at your disposal. Please come visit us today.
Phone Number: 860-653-2517
Address: 9 Hartford Avenue, Granby, CT 06035
Map: click here
Last Updated:
July 31, 2013