Gilbert Pharmacy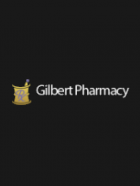 Visit:
We want to improve the health of our community one patient at a time. We are more than just a place to get your prescription medication...we want to be part of your healthcare team working with you, your doctor, and other health team members to monitor for drug interactions, work with your physician to help you get positive healthcare outcomes, provide advice that is specific to you and your needs, and gladly serve you with respect.
Your improved health is our goal...everything we do focuses on you achieving your optimal health. We strive to improve health one patient, one family, one community at a time. We have a "robot" called "Parata Max", which counts tablets and capsules, and labels, and caps prescription vials...this technology improves accuracy and efficiency allowing us to spend more time with you, our patient and customer.
NEW SERVICE! We now provide "MTM' videos...learn about different conditions and medical devices while you wait by watching these videos on an IPAD!
We have the Fillmaster Plus and Flavor Rx custom flavoring service for liquid medicines at a nominal charge.
Gilbert Pharmacy is a certified WV PEIA Diabetes Care provider. (WV PEIA Face to Face With Diabetes)
We invite you to become our patient and experience the difference that is Gilbert Pharmacy.
Phone Number: 304-664-6337
Address: 761 Larry Joe Harless Drive, Gilbert, WV 25621
Map: click here
Last Updated:
August 13, 2013