Gatti Pharmacy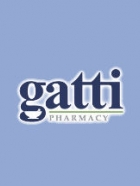 Visit:
Gatti Pharmacy has been serving the Indiana, Pennsylvania area since 1936. The store was started by Louis Gatti at a location between the 6th and 7th blocks of Philadelphia Street. During the early 1940's, the pharmacy moved to a new location in the 800 block of Philadelphia Street before a new store was built in 1955 at 832 Philadelphia Street.
Louis Gatti passed away in 1970, leaving his son William Gatti to take over the business. Bill then built a new pharmacy at 840 Philadelphia Street in 1974. A Wayne Avenue location of Gatti Pharmacy was opened in the 119 Professional Center. In 1999, Bill sold the pharmacy to David M. Smith.
In 2005, Dave's daughter Stephanie Smith Cooney became a partner in the business. In December 2010, Smith Cooney became the President and sole owner of Gatti Pharmacy. She is the first female executive and owner in the history of the company.
Phone Number: 724-349-4200
Address: 701 Philadelphia Street, Indiana, PA 15701
Map: click here
Last Updated:
October 9, 2013