Fort Thomas Drug Center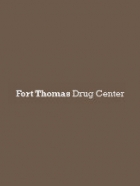 Visit:
Fort Thomas Drug Center is a full service retail pharmacy offering delivery service, medication compliance aids (i.e. Medisets and Dispill-USA), & non-sterile compounding. We accept most insurance plans including Medicaid, Medicare Part-D Plans and many private insurers (including Medco, CVS-Caremark, Express Scripts, and Anthem). Fort Thomas Drug Center is accredited by the American Board for Certification in Orthotics, Prosthetics,and Pedorthics. This accreditation status allows us to bill Medicare for Diabetic Testing Supplies, Walkers, Canes, Crutches, commodes, urinals, and bedpans. We carry convalescent aids, wound care, and orthopedic braces. Other services include Influenza,Pneumonia, and Shingles vaccination.
Fort Thomas Drug Center is your one stop shop for wound care, vitamin supplements, cough and cold remedies (including pseudoephedrine containing products). Other product offerings include school and office supplies, orthotic braces, compression stockings, eye care, foot care, and dental care care. We also take care of your four legged friends by carrying FrontLine® Plus Products.
Our pharmacy is stocked with a variety of candy, snacks, and drinks. You won't find a better selection of greeting cards in town. Don't forget to develop your digital prints with our photo kiosk. Bring those memories to life in minutes.
Phone Number: 859-441-1140
Address: 26 North Fort Thomas Avenue, Fort Thomas, KY 41075
Map: click here
Last Updated:
November 14, 2013