Fitchburg Hometown Pharmacy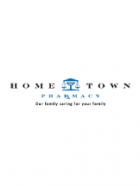 Visit:
Hometown Pharmacy is a locally owned pharmacy that it is committed to providing you with personal attention. We will work with our patient's physician to ensure optimal and low cost medications. We are also looking forward to taking care of their vaccination and durable medical equipment needs. The pharmacy is located in the Hatchery Hill Towne Center between GNC and Hallmark.
Only Hometown Pharmacy offers a personalized approach to pharmacy care, at a comparable price to other pharmacy outlets and drug stores, in a convenient location in each community.
Phone Number: 920-992-6800
Address: 333 Lowville Road, Rio, WI 53960
Map: click here
Last Updated:
August 15, 2013