Evansville Hometown Pharmacy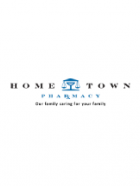 Visit:
Evansville has been fortunate to have had a pharmacy since the late 1800's. The pharmacy has had many owners & different names like Willis Drug, Evansville Family Health Pharmacy & now Evansville Pharmacy. The pharmacy currently resides at 21 W Main St, located inside the historic Grange Mall.
Evansville Pharmacy is proud to sponsor various community events such as the ECP Chili Cook-off, Chocolate Extravaganza & the Evansville 4th of July Fireworks. It also donates several items for school functions to raise money for special events. Evansville Pharmacy realizes the importance of supporting local business. Advertising is done locally and local businesses are utilized for day-to-day needs whenever possible.
Evansville Pharmacy staff members pride themselves on knowing most of the customers by their names and do their best to satisfy customer needs in the Gift Department and pharmacy. To further this caring approach, the pharmacy has recently added some clinical features to its menu of services.
Evansville pharmacy now offers annual influenza immunizations, free Medicare Part D assistance, skin analysis consultations, and bone mineral density screenings. Evansville Pharmacy is working to add more clinical services in the near future to ensure its customers receive the care they need from people they know & trust.
Phone Number: 608-882-4550
Address: 21 West Main Street, Evansville, WI 53536
Map: click here
Last Updated:
August 2, 2013