East Troy Hometown Pharmacy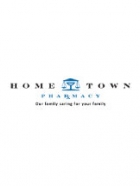 Visit:
East Troy Hometown Pharmacy opened on November 5, 2012. We are located in the Village Market Place next to Martin's Do-it-Best Hardware store and down from Frank's Piggly Wiggly. Our address is 3284 Main Street (County Rd ES) in the village of East Troy. Except for the seven months following the closure of the Aurora pharmacy, this location has been home to a community pharmacy for 25 plus years.
Besides traditional pharmacy services, we offer immunizations, blood pressure checks, specialty packaging, and compounding. We stock a full line of over the counter items with competitive pricing, where we often beat big box retailers. We also stock homeopathic/natural health aids and skin care items. We have a selection of gift items from various vendors as well as local crafters. For mental relaxation we have a wide variety of puzzle choices. We also carry an extensive line of cards that will not be found anywhere nearby.
As a community pharmacy we are here to support the local community that supports us. We are looking forward to a long and healthy symbiotic relationship.
Stop in a see what we have to offer!
Phone Number: 262-642-3510
Address: 3284 Main Street, East Troy, WI 53120
Map: click here
Last Updated:
October 11, 2013