Drexel Pharmacy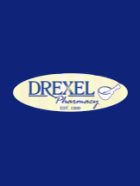 Visit:
Our goal at Drexel Pharmacy is to provide you with fast, friendly, professional, hometown service for all your prescription needs. Locally owned and operated, we have developed a reputation for providing service beyond the commonplace.
Our staff invites you to come experience the excellent service we provide our customers. We're located right on Main Street in downtown Drexel.
Drexel Pharmacy has been a fixture in the Drexel community since 1890. It was originally opened by the White Family and has changed hands a few times over the years. In 2007, Marc Finke and family purchased the Pharmacy with the commitment to continue providing personal and professional pharmacy service to Drexel.
Marc and his staff believe that one-on-one, personal service with you and your family is still the best way to serve your healthcare needs. Whether it is a question on how to treat the common cold or by providing expert pharmaceutical advice regarding any complex medical condition, you can be assured you will be treated like family at Drexel Pharmacy.
In addition to full Pharmacy services, we offer private pharmacist consultation, convenient drive thru, free delivery, immunizations and vaccinations, and diabetic shoes. We also offer a complete line of cards, candy, and gifts.
We'll see you very soon!
Phone number: 816-657-2448
Address: 203 East Main Street, Drexel, MO 64742
Map: click here
Last Updated:
August 26, 2013