Dr. Rita's Pharmacy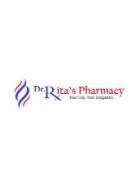 Visit:
Dr. Rita's Pharmacy is one of America's leading pharmacies with over 10,000 satisfied patients.
We have dedicated ourselves to providing our patients with quality and safe medications at affordable prices. More importantly we ensure that their health and well being is our first priority. We recognize the need for our patients to feel appreciated and valued. At Dr. Rita's Pharmacy we seek to do just that by providing a clean and friendly environment for our clients. We encourage you to take a look at the accreditation of our site to put your mind at ease.
Our Pharmacy is run and operated by licensed Pharmacists that have extensive amount of pharmaceutical experience in the city of Houston TX. We are trained and certified in the area of drug dispensation and insuring that your prescription is accurately and professionally filled. You can trust in the value of service that we provide knowing that you are in the hands of Houston's premier Pharmacists. Our facility is conveniently located on Westheimer Blvd. where you can feel safe and secure while getting your prescription dispensed.
At Dr. Rita's Pharmacy we provide services for every need and specification. We are fully equipped to service those that are shut in and incapable of visiting our store. Our free professional delivery service will bring your medication to your home, nursing home, or hospital as your need may determine. We have a group of professional delivery representatives that will treat you with courtesy and respect when they visit you at your home or any specified location. Call us today and find more about our professional and convenient delivery services.
Thank you for considering Dr. Rita's Pharmacy for all of your pharmaceutical needs both now and in the future. Visit our store today and experience the best service provided in the pharmaceutical industry. You are our number one priority and you can always trust that at Dr. Rita's Pharmacy, quality is always our top priority.
Phone Number: 281-531-5965
Address: 13948A Westheimer Road, Houston, TX 77077
Map: click here
Last Updated:
July 29, 2013