Contributing Experts
Donnie Calhoun, P.D.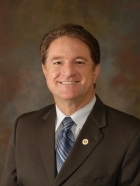 Visit:
Donnie Calhoun, 1987 graduate of Samford University School of Pharmacy, owns 2 stores in Calhoun County. He serves on the executive committee for the National Community Pharmacists Association and as a national director for Pharmacist's Mutual Insurance Company. He is the 2012 President of the Alabama Board of Pharmacy. He also has served on the National Home Infusion Association board of directors and Member Health's P&T committee.
He has served as President of the Alabama Independent Drugstore Association and as a board member of the Alabama Pharmacy Association. He has been involved with teaching pharmacy students as an adjunct professor of Samford and Auburn Schools of Pharmacy. Donnie has served on many pharmacy committees at a local, state and national level. He as been a recipient of many awards including distinguished young pharmacist (1991) and the Alabama Pharmacy Association Pharmacist of the year award (2005). He is married to Cindy and has 3 children, Casey, Caitlyn, and Dillon.
Last Updated:
May 30, 2013