DeForest Hometown Pharmacy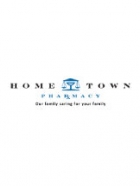 Visit:
De Forest Pharmacy, formerly known as DeForest Drugs, was founded 30 years ago and was located in what used to be the old Schultz's building. In 1996, the store made its move to its current location in the DeForest Towne Center. De Forest Pharmacy prides itself on community involvement and this is witnessed by the monetary contributions it provides to the local school district, local daycares, and various other community organizations. DeForest Pharmacy has extended its community contributions beyond monetary donations and has sponsored bake sales, collected school supplies for needy children, and displayed artwork from children involved in local organizations.
In addition, De Forest Pharmacy forms an annual Relay for Life team that partners with the Mousehouse Cheesehaus in Windsor. DeForest Pharmacy is affiliated with the UW-Madison School of Pharmacy. Students from the school of pharmacy complete their clinical clerkships in at DeForest Pharmacy, providing the latest in pharmaceutical care to all patients. The pharmacy currently offers annual influenza immunization service, free Medicare Part D consultations, a medication review designed to lower annual drug costs and bone mineral density screenings. The pharmacy plans to add more clinical services in the near future.
Many of the DeForest Pharmacy staff members, are residents of DeForest and are actively involved in the community. Patrons of the pharmacy are neighbors, friends, and relatives, and are treated as such when they are in the store. DeForest Pharmacy recognizes that its customers are the reason the doors open every morning. Thank you for your support!
Phone Number: 608-846-4736
Address: 645 South Main Street, DeForest, WI 53532
Map: click here
Last Updated:
July 29, 2013