Contributing Experts
David W. Stockton, MD, FACMG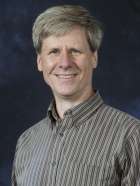 Visit:
David W. Stockton, MD is Chief of the Division of Genetic and Metabolic Disorders and Professor of Pediatrics and Internal Medicine at DMC Children's Hospital of Michigan.

His clinical interests include Dysmorphology, Clinical Genetics, and Adult Genetics. Research Interests include Family History Collection and Accuracy, and Disease Gene Identification and Mapping.
He earned his medical degree at the University of Michigan Medical School in 1992 and did his internship and residency at the University of Michigan Hospitals, 1995. He studied at the Baylor College of Medicine, Fellowship in Clinical Genetics, 1997. He is certified by the American Board of Internal Medicine, 1995 and the American Board of Medical Genetics, 1999.
Last Updated:
May 30, 2013