Contributing Experts
David Shibata, MD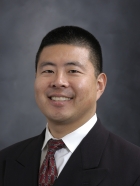 Visit:
Dr. David Shibata is a surgical oncologist and chief of the section of Colorectal Oncology in the Gastrointestinal Oncology Department at Moffitt Cancer Center. He is an associate professor of oncology, surgery and cell biology, microbiology and molecular biology at the University of South Florida College of Medicine.
Dr. Shibata's clinical interests focus on colorectal cancer, including hereditary and high-risk colorectal cancer, familial adenomatous polyposis, inflammatory bowel disease- associated colorectal cancer and rare tumors such as sarcomas, GI stromal tumors and carcinoids. His research involves the biologic mechanisms of HPP1 related to colorectal cancer and he is a co-principal investigator and co-project leader on a Florida Biomedical Research SPORE Planning Grant, "Molecular Signatures in Colon Cancer."
Dr. Shibata received his medical degree from McGill University School of Medicine in Montreal, where he graduated in the top 10 percent of his class and was a Rhodes Scholar finalist. He completed a surgical residency and both a clinical fellowship and research fellowship in surgery at Beth Israel Deaconness Medical Center/ Harvard Medical School. In addition, Dr. Shibata pursued an additional surgical oncology fellowship at Memorial Sloan- Kettering Cancer Center/Weil Cornell Medical College in New York.
Last Updated:
July 8, 2013