Countryside Pharmacy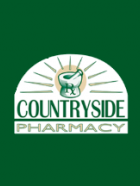 Visit:
Your time is valuable – be a multi-tasker – shop for groceries while we fill your prescriptions.
Our goal at Countryside Pharmacy is to provide you with fast, friendly, professional, hometown service for all your prescription needs. Locally owned and operated, we have developed a reputation for providing service beyond the commonplace.
Our staff invites you to experience the excellent service we provide our customers. We're located inside the Country Mart grocery store on East Price in Savannah.
Owned and operated by Anne Barr, located in the Country Mart grocery store, Countryside Pharmacy has been a fixture in the Savannah community since 2001. Countryside Pharmacy is committed to providing personal and professional pharmacy service to Savannah's residents.
Anne and her staff believe that one-on-one, personal service with you and your family is the best way to serve your healthcare needs. Whether it is a question on how to treat the common cold or by providing expert pharmaceutical advice regarding any complex medical condition, you can be assured you will be treated like family at Countryside Pharmacy.
In addition to full pharmacy services, we offer private pharmacist consultation, free delivery, Medicare-D assistance and immunizations. Patients with diabetes should also check out our lines of diabetic shoes.
Phone Number: 816-324-5111
Address: 402 East Price, Savannah, MO 64485
Map: click here
Last Updated:
August 16, 2013