Continental Pharmacy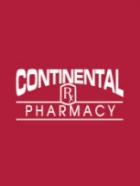 Visit:
Continental Pharmacy is an independently owned pharmacy with a proud tradition of exceptional patient care and customer satisfaction.
You'll enjoy an uncommon level of personal contact with your pharmacist at Continental Pharmacy. We make it a priority to know you on an individual basis. We work closely with your physician to ensure the most comprehensive patient care. For over 30 years, we have helped hundreds of satisfied customers with their health care needs.
TRUST US WITH YOUR PHARMACY NEEDS
Fast and friendly same day service
Medicine-On-Time® (pre-packaged monthly medications)
Diabetic supplies for KanCare patients
Compounding available for your medication needs
Mail services
Medicare part D consultation
Medication reviews
Online prescription reordering
Text message when prescription is ready
Conveniently located in your neighborhood
And most importantly, we know our patients by name. You're not just another prescription to us.
Phone Number: 785-232-6975
Address: 631 Horne Street, Topeka, KS 66606
Map: click here
Last Updated:
July 11, 2013