Clinic Pharmacy - Bowling Green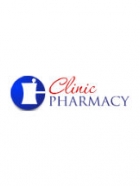 Visit:
Clinic Pharmacy is a full service pharmacy located at 201 Park Street (1st floor lobby, Graves-Gilbert Clinic). Clinic Pharmacy has been providing prescription services to area residents for over 30 years. Our pharmacists have specialized training in prescription compounding, diabetes care, immunizations, medication therapy management, hormone replacement therapy and much more! For your convenience, we also offer drive-thru prescription service and delivery.
Clinic Pharmacy is part of Riley-White, Inc. Our second location, Riley-White Drugs can be found at 153 Park Square N.W in Russellville, KY.
Phone Number: 270-781-3095
Address: 201 Park Street, Bowling Green, KY 42101
Map: click here
Last Updated:
October 17, 2013