Clinic Pharmacy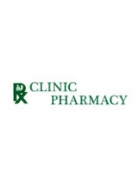 Visit:
Clinic Pharmacy first opened its doors on May 4, 1981 within the community owned clinic "Happy Camp Health Services." It is a separate, private business, owned and operated by Michael Celayeta, pharmacist, and Patt Mar Celayeta, certified pharmacy technician. At the time of it's opening Clinic Pharmacy was the smallest licensed pharmacy in the state of California. It was also the first clinically oriented pharmacy in the area, giving patients personal, professional pharmacy service. Pride is taken in providing the best patient care possible including consultations, blood pressure checks, computerized profile records and personal professional prescription service.
The Celayetas ran the pharmacy as a husband/wife practice in the clinic from 1981 until 1993, when the growing business was moved to its current location on Hillside Road. The new larger building enabled better service to be provided to the patients of the area as professional service was enhanced and the front-end selection was greatly expanded.
Business hours for Clinic Pharmacy are Monday through Friday, 10am until 5pm with noon to 1:15 closure for lunch.
Phone Number: 530-493-2070
Address: 64012 Hillside Road, Happy Camp, CA 96039
Map: click here
Last Updated:
November 7, 2013