City Drug Store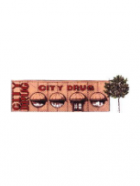 Visit:
"Your Health & Happiness Headquarters"
Take your prescription to a full service pharmacy!
City Drug stocks a wide variety of vitamins, supplements, and health care products.
• Three pharmacists to serve you
• 24 hour emergency service
• We accept most insurance plans
• Ask about delivery service
• Phone in prescriptions
• Pharmacist consultations
You'll receive fast, friendly and dependable service from our pharmacy.
Individual counseling available on over-the-counter medications.
At City Drug we constantly reaffirm our commitment to bring you the finest, friendliest healthcare possible at a reasonable cost.
Phone Number: 218-283-3061
Address: 314 3rd Street, International Falls, MN 56649
Map: click here
Last Updated:
August 2, 2013