Cass Street Pharmacy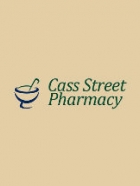 Visit:
Cass Street Pharmacy is independently owned, has been in business for over 20 years. We offer prescriptions, over the counter medications, vaccinations (including flu and shingles), autofills, Smart Packs, and medication therapy management.
The Cass Street Pharmacy is dedicated to the delivery of innovative, individualized, and comprehensive pharmacy care to achieve safe and effective use of medications by partnering with patients and care providers. Our aim is to demonstrate sincerity and compassion to those we serve.
The Cass Street Pharmacy has been independently owned and operated in La Crosse since 1989, first as The Medicine Shoppe, and then changing to Cass Street Pharmacy in 2008.
Phone Number: 608-784-9922
Address: 528 Cass Street, La Crosse, WI 54601
Map: click here
Last Updated:
October 10, 2013