Cashway Pharmacy and Compounding Center - Abbeville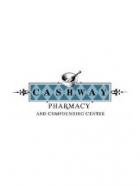 Visit:
We are a problem-solving compounding pharmacy. Along with our Abbeville location, we have more than 30 years of combined pharmacy experience. We carry medical equipment, diabetic and CPAP supplies, and a wide range of over-the-counter items.
Our pharmacists and techs are highly qualified in traditional, compounding, and consulting pharmacy. How can we help you live better?
Phone Number: 337-893-2131
Address: 2509 Charity Street, Abbeville, LA 70510
Map: click here
Last Updated:
July 3, 2013