Caroline Coombs-Skiles, MD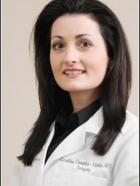 Visit:
Dr. Coombs-Skiles received her medical degree from the University of Texas Medical Branch at Galveston. She completed her five-year residency in general surgery at Baylor University Medical Center in Dallas, where she was given the prestigious Raleigh Ross Scholar award by the Texas Surgical Society.

She has helped establish the new Austin Cancer Centers Breast Clinic which is located at The Breast Center – St. David's Medical Center. This clinic offers patients the combined experience of Breast Surgeons, Medical Oncologists and Radiation Oncologists who are working together as a team to treat each breast cancer patient.
Last Updated:
April 29, 2013