Care Rx Pharmacy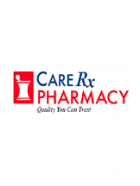 Visit:
Care Rx Pharmacy is your locally-owned independent pharmacy. We are committed to providing our customers with the best quality care.
Have you ever felt rushed when picking up your prescriptions or treated like you are just a number? At Care Rx Pharmacy, you will be treated with kindness, respect, and yet still have your prescriptions ready in a timely manner. It is our mission to provide personalized, efficient, and friendly services to our customers.
Besides providing the traditional pharmacy services such as filling/refilling prescriptions, we also provide prescription compounding. We understand that medication is not a "one size fits all". Therefore, we offer customized prescriptions to meet your specific needs. Whether you are looking for a different strength of medication, dosage form, or flavor than what is currently available commercially, we have a solution for you.
Come to Care Rx Pharmacy and we will take care of you like family.
We look forward to serving you and thank you for the opportunity to help keep you and your family healthy.
Phone Number: 559-261-9888
Address: 302 East Bullard Avenue, Fresno, CA 93710
Map: click here
Last Updated:
May 15, 2013